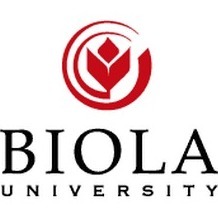 Majorie Fluor Moore, Joan and Lorin Griset, and Susan VanDerRoest
Majorie Fluor Moore, Joan and Lorin Griset, and Susan VanDer Roest generously donated the funds to establish the Joan Griset Endowed Student Scholarship.
Joan Griset was born on July 27, 1946. She was the second child and first daughter of Lorin and Dorothy Griset. Joan was raised in Santa Ana on Edinger Street in what was originally known as Santa Ana Gardens and not far from her grand parents, Eugene and Lula Griset.
She attended Diamond Elementary, Smedley Junior High, and Valley High Schools. In high school she was active in tennis, the Youth for Christ club, and as a Cheerleader on the Pep Squad. From her earliest years she attendedCalvary Church with her family: there at age 8 she was saved; at age 13 she was baptized. With the passage of time she relished an ancestral heritage that included the Waldensians, a family in missions work around the world, and in evangelism and farming at home. Her childhood included wonderful times in the California redwoods at Mt. Hermon where summer gatherings celebrated the Christian faith.
After graduating from high school in 1964, Joan attended Westmont College, a small liberal arts college in Santa Barbara. After several years at Westmont Joan left college studies to try something different: she took flight attendant training in 1968 and went to work in the skies with TWA. In her two years with TWA she got to see many new parts of the world. Undoubtedly the most engaging moments as an airline employee were her chance to work with the Tom Dooley Foundation in Nepal. She spoke enthusiastically of her work in a Tibetan refugee camp and in a leprosarium.
During her flight attendant years and later, Joan lived in various locations on the San Francisco peninsula. She formed important friendships and affiliations then that remained important to her throughout her life. Among these were the Burlingame Presbyterian Church and Young Life activities in the late 1960s.
With more life experience Joan wanted to return to her academic studies. She entered Westmont College again and quickly received her Bachelor's degree in 1971. This led to graduate studies at the University of Santa Clara where she obtained her Master's degree in Counseling Psychology in 1973. These new educational accomplishments didn't prevent her from working as a
Gulliver's "serving wench" an activity that deepened her understanding of people.
From the early 1970s until 1980 she was active in the Peninsula Bible Church, a congregation led by Ray Stedman, a Bible teacher always revered by Joan. Along with post-graduate work at CSU San Jose, Joan completed an apprenticeship with 3000 hours of counseling adolescent females under the supervision of a Christian psychiatrist. As was to be the case throughout her life, Joan hosted many Bible studies and made many new friends in home activities. She was always happy to have her siblings and others visiting her as often as possible. And as if she needed more diversification, Joan was famous for having home parties where Tupperware or cosmetics or even wrenches were the party themes.
Following the completion of her graduate studies and apprenticeship, Joan joined the Psychology faculty of Simpson College in San Francisco in 1975. She taught at the college for two years before turning her employment focus to real estate, an emphasis that would continue until 1992. During this time she had a varied career of selling condominiums, commercial leasing and property management, both in northern and southern California.
In 1984 she moved back to southern California to take a job with Trammel Crow. Later she migrated to Cushman & Wakefield before completing her real estate career with The Amos Krausz Companies.
Upon her return to southern California Joan affiliated with the Mariner's Church in Newport Beach. In the next
eight years there she was active in the Singles Ministry and continued her tradition for hosting Bible studies. She also became the Orange County leader of the Westmont alumni community. One of her great alumni joys was a guided summer trip through England, France, Italy (she visited her grandfather's birthplace in the Italian Alps), Greece and Egypt. Less momentous but no less significant was another sentimental trip: on her 50th birthday her siblings took her to 18 of the Santa Ana places that she knew earlier in her life …her birthplace, the homes where she lived, her old church, the bean field s in which she liked to play, her schools, her favorite shopping and pastime venues.
Following a significant setback in her real estate career, Joan took up residence with her parents in Santa Ana in 1992. At the same time Joan returned to her child hood church, Calvary Church, where she became one of its more active members. Considering the last ten years of her life Joan did the work a typical volunteer might need a lifetime to do. This work attended to the needs of
young and old, single and married.
Throughout much of her life Joan had an abiding hope for a Christian marriage and a family well-stocked with children. These hopes were never realized. Her nieces and nephews, as well as the children of dear friends became that family. For still others she was the kind of big sister who was outspoken and rarely shy. She took these roles seriously, as she did with so many things that mattered to her.
Quite unexpectedly in March 1998 Joan learned that she had cancer. It was the most aggressive form of breast cancer. In the months that followed Joan underwent the nearly life-ending ordeal of massive chemotherapy, a stem cell transplant, radiation and more chemotherapy. At one point in the transplant process when her immune system had been entirely eradicated she contracted a
massive infection that nearly overwhelmed her defenseless body.
To the amazement of the UCI Medical staff, by November of 1998 Joan's recovery was putting her back into new vitality. For those who had prayed for Joan's recovery,her rebound was an assurance that Joan had yet more Christian service to give in this life. She did make the most of her last several years. She was incredibly energetic as she continuously found new ways to encourage and help others. As a recovering cancer patient she helped others who were struggling against cancer. It was one of the ways she expressed her gratitude to the many friends and church community who helped defr y the heavy expenses of her own treatments
during 1998. Through all of these daunting challenges Joan never complained .
In November 2001 Joan lost her famous verve and energy as the cancer swept through her body in full force. As she welcomed God's will in her life she reminded each of us that she was ready to find her rest in God's safekeeping and joy. That rest began in the evening of January 25, 2002, as Joan was held in the surrounding love and prayers of her family and pastor.
Joan is survived by her parents, Lorin and Dorothy Griset; her brothers, Daniel, Norman, and Brian; her sisters, Marilyn Monahan and Susan van der Roest; her in-laws, Judy Griset, James Monahan, and Martin van der Roest; her nephews and nieces, Nathan, Ashleigh, and Gabrielle Griset; Wendy and Wesley Monahan; Brie Griset; David and Michael van der Roest
Impact
Dear Susan VanDerRoest:
Thank you so much for your generous gift! This gift has enabled me to receive a scholarship. I am very grateful because I can attend Biola again next year and continue studying studio arts in a Christian community. I plan to use my artistic skills once I graduate to be a light for the Lord, as well as building a career that will bring glory to Him! I know that I will be drawing, painting, designing, photographing, and doing all kinds of art. Thank you so much!
Sincerely,
Brandon Steadman