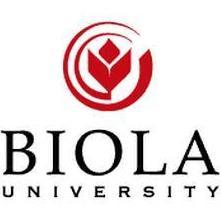 Rose Marie F. Voelker
Rose Marie F. Voelker has generously donated the funds to establish the Robert P. Anderson Memorial Scholarship and the Anderson-Melzl Scholarship. Robert P. Anderson was born February 7, 1919 in Reserve, Kansas, a small town settled by the Welsh people on an Indian reservation. He was the youngest of nine children. When he graduated from high school an older sister suggested he spend time with them in the Los Angeles area and attend school, he also worked at Clifton's Cafeteria. It was there he met Pauline Howell, a student at Biola which, at that time, was located in downtown Los Angeles and was associated with Church of the Open Door. Bob and Pauline married, had three children – two of whom are still alive. A son, Timothy, died in 1995. Pauline died July 2, 1978. Robert re-married in 1982 to Rose Marie Volker. Mutual friends introduced them and they had 22 happy years together. In the last several years of his life Robert experienced many health problems and died November 16, 2004.
He eagerly looked forward to meeting Jesus, his Lord and Savior in whom he delighted, and also to being re-united to his first wife Pauline, his son Timothy, his mother who died when Robert was very young and who he never really knew, and the rest of his family. Robert was a most kind and generous man who gave all he could and never asked for anything in return. He was very outgoing, made friends easily, loved and served his dear friends all his life, and dearly loved his family and was dedicated to them. It was a very special blessing to his wife and family to be touched by this dear man of God.
The Anderson-Melzl Scholarship was established in honor of Robert's and Rose Marie's parents who were immigrants to the United States.
Impact
Dear Rose Marie Voelker:
I would like to take this opportunity to thank you for your generosity in funding the Robert P. Anderson Memorial Scholarship. I am very honored to be the recipient of this award.
I am currently a senior in our Biola Nursing program. I enjoy being around people and serving others in need. I want to make myself available to my patients so they would feel more inclined to share their difficulties, both physically and spiritually. I believe that I was called to serve. My goal is to come close to those in need. Receiving this scholarship means that I am one step further to achieving my goal of serving. I want to be an imitator of Jesus Christ and wish to excel in it for His ultimate glory.
Thank you again for the scholarship. I really appreciate your generous contribution to my education and this university.
Gratefully,
Don Youn Eunice Lee